(NEW!)Fundraiser Programs
OnQsites has developed a Website and Fundraising Program that can propel your Not-For-Profit organization into the future. We offer: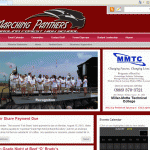 Content Management
Contact Management
Online Registration (customized to your requirements) –Member Sections – Protected Content
Multiple Mailing list features and Auto-Responders
Photo Galleries – (Protected  and/or Unprotected)
Audio and Video Podcasting
Event Calendars – with auto mapping-direction features
Online Registration and Mailing List Gathering for Student, Parent, Alumni and any other category
Social Media Integration, RSS Feeds, Facebook & Twitter (auto) Feeds
Contact  Forms, Print Now,  Auto PDF (any- page or post)
On-line Donations
On-Line Fair Share Collections
On-Line Documents and Forms
Unlimited Training and Support – Plus more…
We Will Manage The Site For You and Be With You Every Step Of The Way!!!
You will receive all the functions of the web site Plus it can be the largest Fundraiser you do all year!! Please contact Tom or Preston at: 866-701-2067 – Limited availability dependent upon organization size, market demographics and area.  DON'T MISS THIS OPPORTUNITY CONTACT US NOW!      Visit a Sample Site just Completed